CLASS DESCRIPTION
Join Sue Fisher for a one day workshop where you'll learn a variety of techniques for constructing bangles and cuffs from polymer clay.

Polymer clay bangles and cuffs are lightweight and comfortable, and can be decorated in endless ways including with patterned or textured veneers, cane slices, dimensional appliqués, carving and sculpting, and embedded objects.

In this class we'll start by constructing polymer clay bangle and cuff "blanks" on metal forms which will be cured while preparing decorative veneers. The decorative veneers will then be applied to the blanks and cured again, after which the edges and interior can be lined. Completed pieces will be refined with finishing techniques such as sanding and buffing. See below for further details on topics covered.

Sue will share tips and tricks from 10 years working with polymer clay to help you master the construction techniques and adapt them to your personal style. You will make both a bangle blank and a cuff blank, and should be able to finish at least one of these during class time.

For decorative inspiration, you might also be interested in some of the other polymer clay classes offered by SJS, including Surface Design Techniques, Imitative Techniques #1 and #2, and Polymer Clay Canes.

SKILL PREREQUISITE
None, although experience working with polymer clay is an advantage.

ESSENTIAL TECHNIQUES COVERED
* Cuffs versus bangles

* Suitable polymer clay brands

* Selecting and preparing metal forms

* Making cuff and bangle "blanks" from polymer clay

* Reinforcement techniques

* Shaping and working with flat, domed and freeform crosssections

* Applying decorative coverings

* Edge and interior treatments

* Adjusting the fit for different sized wrists

* Multi-stage curing for easy handling and maximum strength

* Sanding and finishing

* Discussion of other construction techniques including enclosed armatures and wooden bases

WHAT'S INCLUDED?
All materials, including a generous allocation of polymer clay. Additional polymer clay will be available to purchase if required.

Loan of all tools required for the techniques covered, including cuff and bangle forms in a range of shapes and sizes.

Comprehensive notes.

Tuition.

WHAT TO BRING AND MATERIAL FEE
There is no materials fee for this class. Materials are included in your class price.

Please bring:

* Scrap polymer clay, if you have some, equivalent to 2 small blocks and conditioned to a uniform consistency and colour. If you do not have scrap clay the class allocation will be sufficient.

* A plastic takeaway container to take home any leftover clay.

You are welcome to bring your own pasta machine and polymer clay toolkit if you have these and would like to use them instead of the loan equipment.

GENERAL INFORMATION
WH&S protocols at SJS require all students to wear CLOSED shoes and for long hair to be tied back. We recommend that glasses are worn instead of contact lenses and wearing minimal jewellery due to a studio environment.

PREVIOUS STUDENTS HAVE SAID
This is a new class for 2016

polymer clay bangles and cuffs
| | |
| --- | --- |
| COST | $149 |
| DATE | May 21 |
| DAY | SATURDAY |
| TIME | 9:30 AM - 4:00 PM |
| TEACHER | SUE FISHER |
| VENUE | Sydney Jewellery School |
| SKILL LEVEL | Open to all levels |
SOLD OUT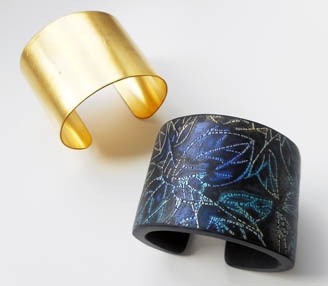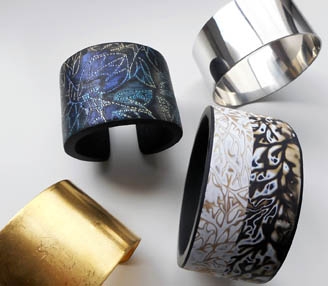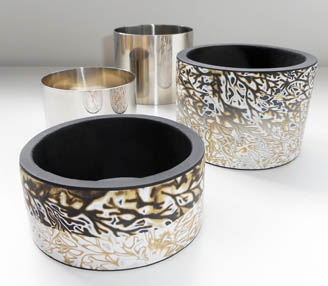 Further your skills with these additional techniques
Can't make the scheduled class time?
Register here for early notifcation
on when this class is rescheduled.